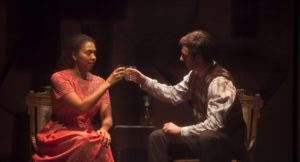 NOTED AUTHORS AND ALTADENA PUBLISHER DEBATE WHETHER AUTHORS' RACE, GENDER LIMITS WHAT THEY CAN WRITE ABOUT
A spirited talk between an Altadena publisher and three of her acclaimed authors will be presented at 7 p.m. Thursday Feb. 2 at the Altadena Community Center (730 E. Altadena Drive, Altadena, California 91001) The event is open to the public free of charge.
The panel discussion will be among Naomi Hirahara, an Altadena native who is author of a mystery series set in that foothill community; Rachel M. Harper, author of 2016's notable novel, "This Side of Providence;" Joyce Gittlin, television writer and director and author of numerous movie scripts for Disney, Paramount and 20th Century; and Colleen Dunn Bates, founder and publisher of Altadena-based Prospect Park Books.
Their talk will focus on issues raised in the play "Bee-luther-hatchee" by Thomas Gibbons, being presented at the Sierra Madre Playhouse through Feb. 18. The discussion is sponsored and produced by the playhouse, and is hosted by the Altadena Historical Society.
The play follows a publisher, Shelita Burns, who seeks to meet a reclusive author whose "biography" of a 72-year-old black woman has won a major award. To her profound shock, the author is not whom Shelita expected. The play is a provocative look at cultural appropriation and who has the right to tell someone else's story.
Hirahara, Harper, Gittlin and Bates will discuss whether an author of one sex, or race, may write as another. Hirahara, as a Japanese-American, writes primarily about Japanese-American characters and Harper, an African-American, wrote about a Puerto Rican family in "…Providence."
The production and public discussion programs are being made possible by a grant to the Playhouse from the Sheri and Les Biller Family Foundation.